System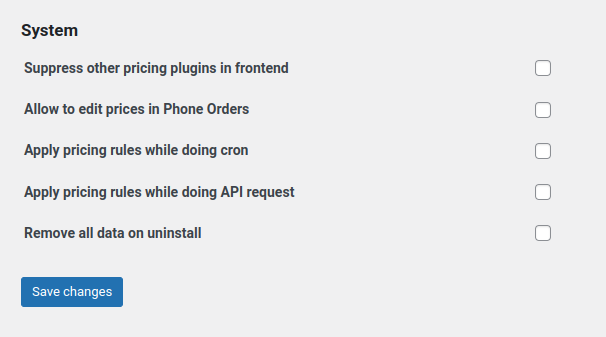 The System tab has settings for some global adjustments of the plugin.
Suppress other pricing plugins in frontend. Set the highest priority of our plugin for pricing on the frontend.
Allow to edit prices in Phone Orders.  Use plugin Phone Orders to add backend orders.
Default way (>WooCommerce>Orders>Add Order) just puts records directly to database and ignores pricing rules.
Note: the option "Apply pricing rules while doing cron" is always on for the Yoast SEO and Facebook for WooCommerce plugins. 
Apply pricing rules while doing API request.
Remove all data on uninstall. The plugin removes all rules/settings and history of applied discounts.