Product only type rule

This rule allows you to create many rules for 1 product and this will not affect the performance of your site. It works from a cache. Therefore, you need to create only 1 rule for 1 product/category/attribute and so on. If you create the several rules for 1 product that only the 1st rule will be apply.

Also, after each change of rule you need to click on the "Recalculate Product only rules cache" for cleaning cache of this rule, otherwise, your changes will not apply. Each product only rule type is exclusive so if the "Product only rule" type is applied that a common or exclusive rule for same product doesn't apply.
If you has > 30 rules you'll get a notification about to enable the "Product only rule" type. For this, you need to go to Pricing rules > Settings > Rules and enable the "Support Product only rule" option.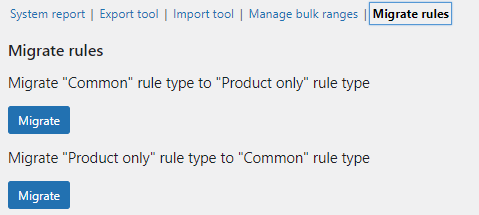 Also, you can automatically migrate your current common rules to "Product only rule" type (Pricing rules > Tools > Migrate rules). The product only rule type may include only 1 product filter (not any product filter, not >1 value in the product filter, not role discounts and cart adjustments section in the rule).