Misc Settings
The "Misc settings" section has the following settings: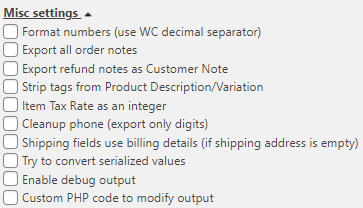 Format numbers (use WC decimal separator). Use

number formatting of the report.

The value of the separator is specified in the module "WooCommerce" – "Settings" – "General"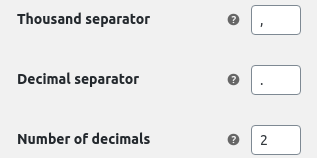 Export all orders notes. Turn on this checkbox for exporting orders notes.
Export refund notes as Customer Note. Turn on this checkbox, if the customer returned the product and left a comment.
Note: don't forget to add the "Customer Note" field in the "Set up fields" block.
Strip tags from Product Description/ Variation. Turn on this option, if you specified the product description using HTML tags, and you do not want the tags to be displayed in the report.


Item Tax Rate as an integer. Show the tax rate without decimals in your report.
Clean up phone. Displaying only digits of the phone numbers (without "+" and "-" signes, e.g.).
Shipping fields use billing details. Fill in the empty shipping address field by the address from the billing.
Try to convert serialized values. This option uses for converting serialized values from database. Look at the example below:

Enable debug output. Turn on this checkbox if you need to display the SQL query of the report and errors. For example:

Note: If you want to see all the error logs that occurred while working with the "WooCommerce" plugin, go to the" WooCommerce " – "Status" – "Logs" section and review last "fatal-error-xx.log" file.
Custom PHP code. Create a report with arbitrary parameters. Check the options for using this parameter here: