Interface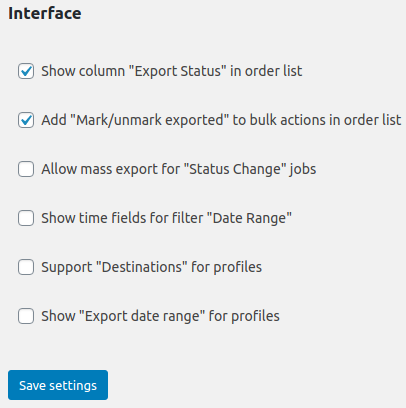 Let's look at some settings in more details:
Show column "Export Status" in order list. Configure the display of the order export status in the "WooCommerce" – "Orders" section

Activate scheduled jobs. If this option is disabled, all scheduled jobs become inactive.
Allow mass export for "Status Change jobs. By default, "Export", "Export [w/o progressbar]" and "Export now" buttons hides on the "Status Change jobs" tab. Enable this option to display the buttons.
Show time fields for filter "Date Range". Show the "Time" field to the "Date range" filter on the report export settings tabs.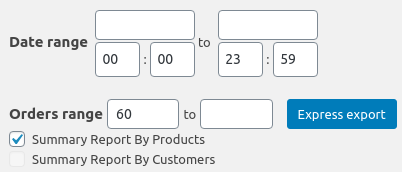 Support "Destinations" in the profile. Configure sending a report to the desired destination. If you select the "Don't download to browser" option and click the "Export" button, your report will not load, but will be sent to the destination that you specified in the settings

Show "Export date range" for profiles. Show the "Export date range" section in your profile that allows you to configure the period for which data will be downloaded to the report.